BMW DEALERSHIP IN NOBLESVILLE, INDIANA
The Best Selection of New and Pre-Owned BMWs
You won't find a better selection or new and pre-owned BMWs in Noblesville, IN. Dreyer and Reinbold BMW sells and offers full service for the latest high-performance cars and SUVs from BMW. With over 45 years of experience, the sales and service teams at Dreyer and Reinbold BMW are ready to help their neighbors in Noblesville get on the road in a BMW that they love.
View our selection of New BMWs and Certified Pre-Owned BMWs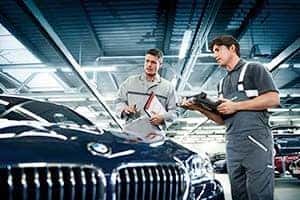 Full BMW Service and Repair Center
Our experienced BMW service and repair technicians are able to help with extensive service repairs as well as oil changes and quick maintenance work. They are local to the fast-growing and dynamic Fishers area and have years of experience working with the community of BMW drivers all around Indianapolis.
Schedule an appointment with our BMW service department today!
Pick Up and Drop Off Service Available*
Dreyer and Reinbold BMW is committed to offering the best customer service by offering Pick Up and Drop Off service. We know you're busy and it can be a hassle to take the time to arrange getting to or from the dealership. We're happy to make our neighbors' lives in Noblesville that much easier!