BMW Launches New Turbo 4 Cylinder Engine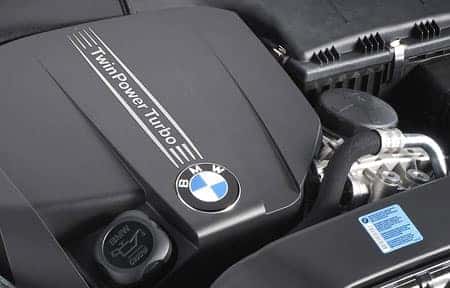 NEW 2.0 LITER TWINPOWER TURBO 4-CYLINDER ENGINE BY BMW
Today, BMW revealed the full details around their new 2.0 liter TwinPower Turbo four-cylinder engine. The engine is being included in the also new BMW X1 xDrive28i.
The first four-cylinder petrol engine with BMW TwinPower Turbo technology offers a substantial power upgrade as well as a significant efficiency improvement; rated power: 180 kW/245 hp, rated torque: 350 Newton meters.
Closely modeled on the BMW in-line six-cylinder engines, the all-new 2.0-litre engine with all-aluminum crankcase comes with BMW TwinPower Turbo technology featuring high-performance twin-scroll turbocharging system, High Precision Injection direct petrol injection with innovative solenoid injectors, and the latest further enhanced version of the BMW-patented VALVETRONIC variable valve control system.
New engine generation constitutes the latest innovative highlight of the BMW EfficientDynamics strategy, 2.0-liter engine with torque upgrade compared to the previous engine, and exceptionally low fuel consumption and emissions.
In the EU test cycle, the BMW X1 xDrive28i runs with 7.9 liters/100 km or 35.7 mpg imp (an improvement of 1.5 liters / 5.7 mpg), has CO2 emissions of 183 g/km (down by 38g).
Source: BMWblog.com
The engine: new benchmark in efficiency and dynamism.
BMW X models offer their own distinctive interpretation of typical BMW driving pleasure. The BMW X1 xDrive28i combines this special driving experience with an efficiency that is unrivaled in this power class. As a result, this new BMW X1 model offers sporty power delivery of a kind that was previously confined to six-cylinder engines – but combines it with outstanding fuel consumption and emissions performance.
It's all down to the latest-generation 2.0-litre four-cylinder petrol engine, which sets new standards with its various innovative technologies. The BMW X1 xDrive28i's powerplant achieves the twofold goal of BMW EfficientDynamics in impressive style: it continuously raises the bar on driving pleasure, while at the same time reducing fuel consumption and emissions.
With a displacement of 1,997 cc and world-exclusive BMW TwinPower Turbo technology, incorporating twin-scroll turbocharging, High Precision Injection, double-VANOS and VALVETRONIC, it delivers maximum power of 180 kW/245 hp at 5,000 rpm – 55 kW more than the previous top-powered BMW 2.0-litre petrol engine.
Debut: first application of BMW TwinPower Turbo in a four-cylinder engine.
BMW TwinPower Turbo technology gives the new four-cylinder engine the sort of power which naturally aspirated engines can only achieve through more cylinders and substantially larger displacement. The four-cylinder engine with its all-aluminium crankcase, including a motor sport-derived bedplate, is lighter and more compact than a six-cylinder engine of equivalent power. This has direct benefits for the efficiency of the BMW X1 xDrive28i and also,
thanks to the reduced front axle load, for agility.
The new engine offers more torque, too, than the previous naturally aspirated engines. Rated torque of 350 Newton metres, which comes on stream at just 1,250 rpm, ensures a very good low-end response. The vigorous power delivery, from only slightly above idling, is a very seductive feature of this new engine,
and the power climbs steadily all the way to the upper area of the load range. The new BMW X1 xDrive28i has a 0 to 100 km/h (62 mph) sprint time of 6.1 seconds (6.5 seconds with automatic transmission). These times are an improvement of 0.7 seconds and 0.3 seconds respectively on those for the previous model with six-speed automatic transmission. The new BMW X1 xDrive28i hits a top speed of 240 km/h (149 mph).
The turbocharger is a twin-scroll system. The exhaust streams leaving the two pairs of cylinders are kept completely separate as they flow through the exhaust manifold and the turbocharger, taking a spiral path to the turbine wheel. This configuration results in very low exhaust back pressure at low
engine rpm, and allows the energy of the exhaust gas pulses to be optimally managed and translated into powerful rotation of the turbine blades, without a response delay. The result is instant throttle reaction and typical BMW fastrevving performance.
More dynamic performance plus reduced emissions, thanks to VALVETRONIC, double-VANOS and direct injection.
The fully cylinder head-integrated VALVETRONIC variable valve control system, and the double-VANOS variable intake and exhaust camshaft timing, have a further positive impact on power development. The BMW X1 xDrive28i engine features assembled intake and exhaust camshafts and a latest-generation VALVETRONIC system which is even faster-acting thanks to an
optimized stepper motor with an integrated sensor.
The patented BMW VALVETRONIC system with seamlessly variable intake valve lift control dispenses with the throttle valve system typical of earlier engine generations. Instead, the combustion air mass is controlled inside the engine, resulting in a much faster response. Pumping losses are kept to a minimum, so making the engine more efficient.
The new engine's unusually high efficiency, for a turbocharged unit, is also down to the High Precision Injection petrol direct-injection system. Centrally positioned between the valves, solenoid injectors with a maximum injection pressure of 200 bar precisely control the supply of fuel. The fuel is injected very close to the spark plug, resulting in clean and homogeneous combustion. The cooling effect of the injected fuel also results in a higher compression ratio than on turbocharged naturally aspirated engines. This results in further efficiency improvements.
The efficiency theme continues with a computer-controlled oil pump and an on-demand electric coolant pump. Also, the new BMW X1 xDrive28i is specified as standard with a six-speed manual transmission with Auto Start-Stop function. This system automatically switches off the engine when the vehicle stops at crossroads or is sitting in stationary traffic in order to prevent unnecessary idling and wasteful use of fuel.
The new engine technology and extensive, standard-fitted BMW EfficientDynamics features achieve an exceptionally good balance between performance and fuel consumption. The new BMW X1 xDrive28i has average fuel consumption in the EU test cycle of 7.9 litres /100 km (35.7 mpg imp), a 16 percent improvement on the previous model. CO2 emissions are rated at 183 grams per km.
Souce: E90post.com